Practical, flexible and ecological storage solutions

BULLSEYE (or By Bullseye on social networks) is the own brand of Pulsaï, distributor of design decorative objects for more than 10 years.
BULLSEYE's creative ideas are based on the answer to these 2 questions:
1/ How to organise/store a maximum of everyday objects in a small area and in an efficient way?
2/ How to avoid plastic in storage solutions in order to preserve our planet?
Upcycling, a great lever for creativity
Upcycling is a new trend that consists in giving value to used objects or products by giving them a new and more qualitative life. For a long time, BULLSEYE has been experimenting in this field and has finally come up with a few ideas:
1 - Empty cans upcycled thanks to a pretty lid
An empty tin can - with the sharp edges removed - can easily be converted into a storage/sorting box, gift box, decorative object or personalised piggy bank.
The contents of the can are thus protected and nicely hidden. The whole thing is airtight enough to store all kinds of things, including non-perishable foodstuffs:
- kitchen: cereals, pulses, sugar, flour, biscuits, sweets, ...
- bathroom: lipsticks, make-up, cotton buds, cotton squares, hair accessories, etc.
- office: paper clips, tacks, rubber bands, USB sticks, etc.
- workshop/garage: sewing, hobby, craft materials, ...
- gifts, jewellery, pocket money, treasures, etc.
By decorating them, the tins become more valuable. The more you decorate them, the more they will be valued and the more you will be a fan! These cans will speak about you, your history, your passions, your tastes...
This simple storage solution has great advantages, especially for our planet:
- ecological: reduction of waste by reusing cans, use of 100% recyclable and locally available materials (reduced carbon footprint). Our beechwood lids are sourced from well-managed FSC certified forests. These cans can replace most plastic storage cans that are harmful to the planet.
- practical: these durable cans, sometimes with an inner lining, are available in a variety of sizes and meet many storage needs.
- economical: cans are readily available, in unlimited numbers, and at little or no cost.
- personalized: you can use your creativity to personalize these cans and make your storage space more attractive.
2 - Used golf balls converted into furniture knobs, handles, decorative balls, etc...

With BULLSEYE, golf balls that are too worn for golfers are given a new lease of life: once cleaned and relooked, these upcycled golf balls - and of course free of knocks - can proudly adorn your cupboard doors and drawers, chests of drawers, wardrobes and other furnishings.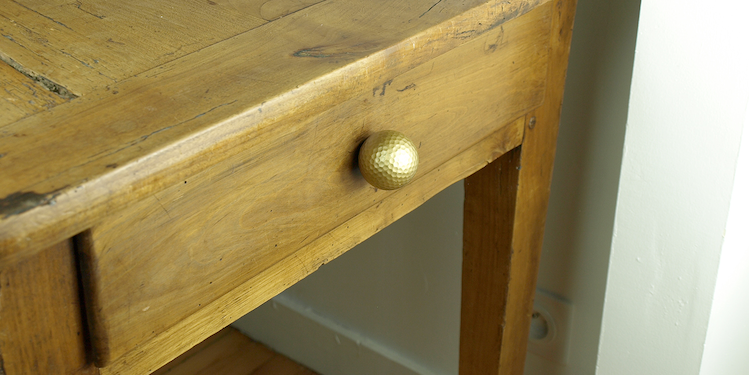 Their coating and shape make them practical and stylish accessories. Beyond the originality of this new object, the advantage is also to reuse an existing resource to reduce waste.
Experience in designing small spaces
The members of the BULLSEYE team have all lived in small spaces and know that the organisation of space is essential to avoid stress. Based on this experience, BULLSEYE will soon be offering modular shelving on this site, which is easy to install and allows for optimum storage of your belongings. To be discovered in early 2022.
Until we have the opportunity to exchange with you, take care of yourself and our beautiful planet!
The Bullseye team


                                                                                                     A trade mark of